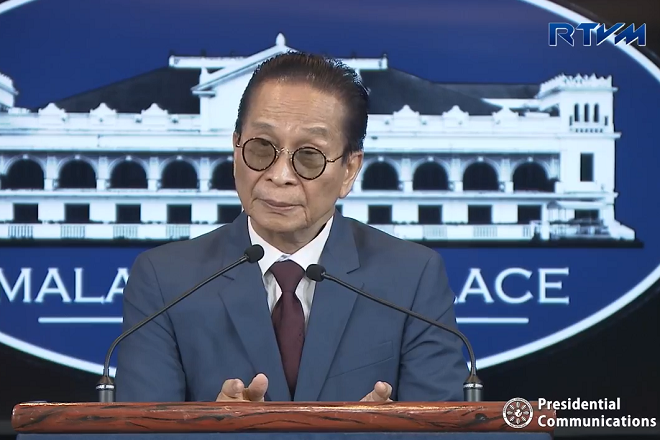 May 15, 2019
Presidential Spokesperson Salvador Panelo hit on Wednesday the Philippine Daily Inquirer for its editorial about his supposed "flimflammery" on how he responded to a meme that came out after his presentation of matrices of personalities and organizations supposedly conspiring to oust President Rodrigo Duterte.
In a statement, Panelo accused the PDI of twisting the statements coming from Duterte and the Palace.
"It is not surprising though as this newspaper has a habit of twisting statements coming from the Palace and the President as well, and putting up screaming slanted headliners to put us in a bad light before its readers," he said.
In its editorial that came out on May 14 entitled, "Panelo's flimflammery," the newspaper said it was "downright comical" to see the spokesman "gnashing and whinging about the instant karma he got after peddling the amateurish Malacañang matrices of people supposedly out to 'discredit'" Duterte.
It noted that after Panelo showed the matrices or diagrams, this resulted to "cathartic deluge of funny, savage, in-your-face memes on social media."
One of the memes was the one posted on the satirical Facebook page "Malacanang Events and Catering," showing a photoshopped image of Panelo  from his May 8 press briefing gesturing before a whiteboard with the names of opposition Otso Direstso senatorial bets on the board, as if he was endorsing them.
PDI noted that Panelo "went ballistic" as he issued a strong statement about the political meme.
Panelo justified why he had to react to his meme.
"The case of the political meme, however, is different. An edited on-line image showing a bogus endorsement of Otso Diretso senatorial candidates and others from a member of the President's cabinet can mislead gullible netizens who believe in what they see or read on the internet," he said.
Panelo reiterated that the release of the matrices was Duterte's "constitutional duty to inform the public," while his meme was "simple black propaganda."
"While the former is veracious, the latter is fake news. They are as different as chalk and cheese, and comparing them is blatant idiocy," he said.
Panelo also said that after the midterm elections, showing "the resounding victory of the administration's candidates, the Palace wishes to start with a clean slate which is free from the opposition's disinformation attacks, which includes the subject editorial from the Inquirer." Celerina Monte/DMS