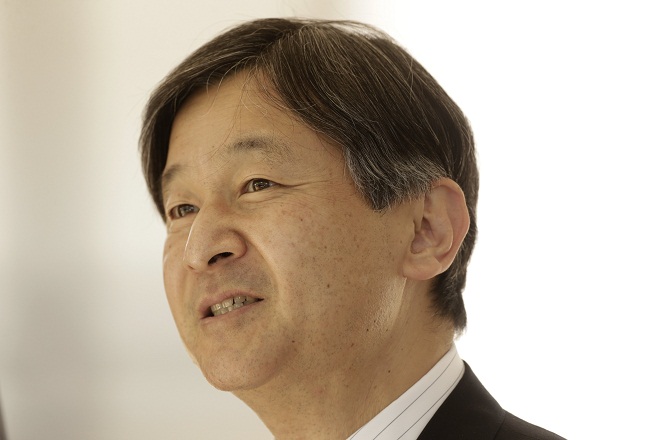 May 1, 2019


Tokyo--During his early childhood, Japan's new Emperor Naruhito grew up under an environment that broke with Imperial tradition, living with his parents, Emperor Emeritus Akihito and Empress Emerita Michiko, based on the couple's policy.

The new Emperor, who assumed the throne on Wednesday, devoted himself to such activities as kendo, a Japanese art of fencing, and mountain climbing during his elementary and junior high school years. After advancing to high school, he started receiving education to become a future Emperor to succeed his father.

Emperor Naruhito was born at 4:15 p.m. on Feb. 23, 1960, at the Hospital of the Imperial Household, located in the premises of the Imperial Palace in Tokyo's Chiyoda Ward. He was 47 centimeters in height and weighed 2,540 grams at birth

In a ceremony held on the seventh day of his life, he was named Naruhito, which derived from a classical Chinese literary work. His name was decided by then Emperor Hirohito, his grandfather and posthumously called Emperor Showa, also based on opinions from his parents.

Emperor Naruhito moved to the Togu Palace in the Motoakasaka district in Tokyo's Minato Ward with his father and mother, then Crown Prince and Crown Princess, in June 1960, and there he started living with his parents in a move departing from Imperial tradition.

Child-rearing by the couple therefore attracted keen public attention at the time.

For about two weeks between late September and early October 1960, when Emperor Naruhito was around 7 months old, his parents visited the United States to perform official duties.

Before the departure, his mother left a detailed child-rearing memo at home, which became a popular topic of the public as the "Naru-chan constitution," named after Naruhito.

From kindergarten to university, Emperor Naruhito was enrolled in the Gakushuin school system.

In October 1964, the year when the new Emperor entered Gakushuin Kindergarten, he went with his parents to an event related to the Tokyo Olympics, joining official duties as an Imperial Family member for the first time.

The Emperor Naruhito's younger brother, Crown Prince Akishino, was born in November 1965, followed by the birth in April 1969 of his sister, former Princess Sayako, the youngest of the three children of Emperor

Emeritus Akihito and Empress Emerita Michiko, who retired as Emperor and Empress on Tuesday. The only daughter of the retired Emperor and Empress became a commoner following her marriage with Tokyo metropolitan government employee Yoshiki Kuroda in 2005.

After entering Gakushuin Primary School, Emperor Naruhito developed a strong interest in history, triggered by his coming across a wooden notice about an old road when he was strolling in the Akasaka Estate, where the Togu Palace is located.

In his elementary school graduation essay, he wrote about his future in the 21st century. On his dream 30 years later, he said, "Now, I am teaching Japanese history at university."

As his father wanted him to be physically strong, Emperor Naruhito learned swimming, horse riding, mountain climbing and tennis. He also became a baseball fan, influenced by his friends.

He made his mountain climbing debut at the age of 5, at Mount Hanare in the town of Karuizawa, Nagano Prefecture, central Japan. He climbed many mountains in the Karuizawa area later. Emperor Naruhito entered the kendo club of the elementary school when he was a fifth-grader.

During the six years at the boys' junior high and high schools of Gakushuin, he learned many things from communal life. He also started to go mountain climbing frequently.

He was nicknamed "Jii," or an old man, by his schoolmates, as he became interested in "bonsai," an art of growing miniature trees in pots employing various techniques. Bonsai had been traditionally regarded as a hobby among elderly men.

When he was a third-grader at Gakushuin Boys' Junior High School, Emperor Naruhito went overseas for the first time, enjoying a homestay in Australia for two weeks.

After entering Gakushuin Boys' Senior High School, he started receiving full-fledged education to become a future Emperor. Experts visited the Togu Palace to give him lectures about achievements by past Emperors and literary works including "Manyoshu," the oldest existing anthology of "waka" Japanese poems.

In August 1976, when he was 16, Emperor Naruhito visited Belgium at the invitation of then Belgian King Baudouin, as well as Spain, traveling to Europe for the first time.