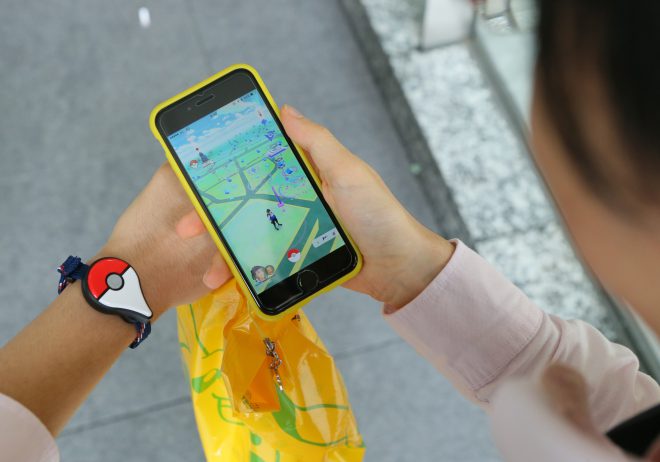 July 23, 2017
TOKYO- The smash-hit smartphone game Pokemon Go has struck a series of records since its launch in Japan on July 22 last year.
While the product helped invigorate the game market, it caused a lot of problems, such as fatal traffic accidents, because players concentrate too much on the augmented reality game.
Pokemon Go was first launched in the United States and other countries in early July last year before becoming available in Japan.
Just after the Japanese debut, people looking at smartphones to play the game while walking increased sharply in the country, leading railway operators and others to issue safety warnings.
Players also flooded places where popular virtual Pokemon monsters appeared.
Some 100,000 people visited Ishinomaki in the northeastern prefecture of Miyagi where a rare character appeared for a limited period in an event. An estimate puts the economic effects of the event at some 20 billion yen.
Pokemon Go set five world records recognized by Guinness World Records, including the number of downloads in its first month.
The total distance walked by all Pokemon Go players around the world has topped 15.8 billion kilometers, about 400,000 times around Earth.
The game app has been downloaded more than 750 million times in total. As of April this year, 65 million people were still active players.
According to a government gazette, net profit at Pokemon Co., a Tokyo-based Nintendo Co. affiliate that helped develop the game, totaled 15,921 million yen in the year that ended in February 2017, a 26-fold increase from 619 million yen in the previous year.
Pokemon Go "has attracted people who did not play smartphone games and revitalized the market," said Hirokazu Hamamura, president of Gzbrain Inc., which publishes the major game information magazine Famitsu.
Smartphone game developers introduce additional game elements one after another, to shore up the popularity of their products and keep them played for a long time. (Jiji Press)