Warning: Use of undefined constant full - assumed 'full' (this will throw an Error in a future version of PHP) in /home/manila-shimbun/www/wp-content/themes/Manila Shimbun/single.php on line 18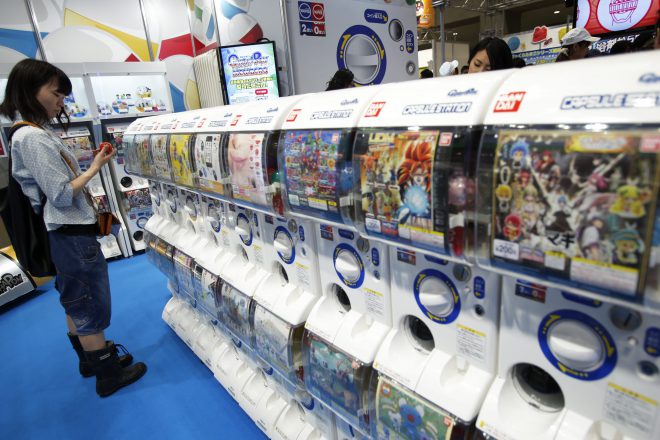 June 27, 2017
Tokyo- Over the past 40 years, "gashapon" capsule toys of Bandai Co. have remained popular with buyers keen to find out what are inside of the capsules.
Toys in the capsules have shifted from simple rubber dolls to sophisticated artworks that would attract adults and foreign tourists traveling Japan.
In March this year, Tokyo-based toy maker Bandai, a subsidiary of Bandai Namco Holdings Inc., set up what it claims to be Japan's first shop dedicated to the vending machine-dispensed gashapon toys, on the first basement level of Yaesu North Exit of Tokyo Station.
A total of some 50 gashapon machines are located in the small shop, filled mainly with foreigners, families and corporate workers.
The main price range is set between 200 to 300 yen per capsule.
"It's my first time here," said a corporate worker in his 30s, who bought a cat figurine there. "Those who like collecting things will absolutely love" the shop, he added.
Gashapon refers not only to Bandai capsule toys, launched in 1977, but also the vending machines offering such playthings.
Similar capsule toys, called "gachagacha" and other names, are sold by Japan's Tomy Co. , better known as Takara Tomy, and other companies. Bandai has the largest share in the capsule toy market.
There are some 360,000 vending machines selling Bandai capsule toys across the country. Some gashapon vending machines provide non-Bandai capsule toys.
According to Bandai, popular gashapon items among adults include figurines from the "Mobile Suit Gundam" anime series and the "Cup no Fuchico" miniature female office worker, manufactured by Kitan Club Co. of Japan.
Foreigners often enjoy figurines from "Dragon Ball" and other anime series as well as small Japanese-style accessories, Bandai officials said.
For the first time in some 10 years, Bandai is due to sell from gashapon machines "kinkeshi" collectible erasers in the shapes of characters from "Kinnikuman," a popular Japanese anime. The blockbuster erasers were first launched in 1983. (Jiji Press)