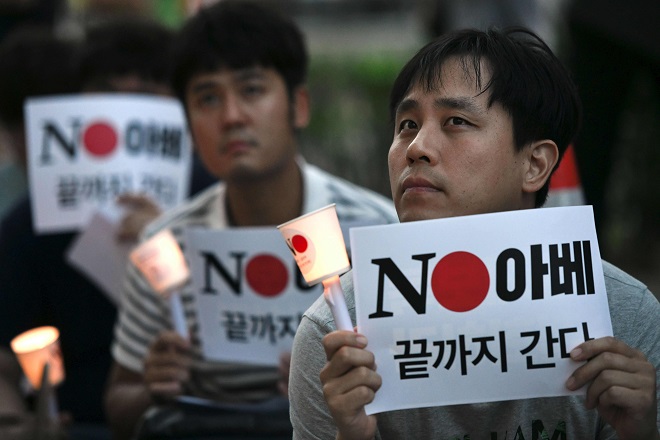 August 1, 2019


Bangkok--South Korean Foreign Minister Kang Kyung-wha urged her Japanese counterpart, Taro Kono, on Thursday not to remove Seoul from Tokyo's "white" list of trusted trading partners qualified for preferential treatment in export procedures, South Korean media reported.

At their meeting in Bangkok, Kang explained to Kono grave impacts that would be caused on the bilateral relationship if the Japanese government makes a cabinet decision to oust South Korea from the list.

Kono informed Kang of Japan's position on the trade issue.

The Japanese minister reiterated Tokyo's request that Seoul correct its violation of international law over the issue of wartime labor. The Kono-Kang meeting ended without any progress on the issue, sources with access to the talks said.

Last year, South Korea's supreme court ordered Japanese companies to pay compensation to South Koreans requisitioned to work for them during World War II. Tokyo takes the position that the wartime labor issue was settled by the bilateral pact on property and rights, concluded when the two countries normalized diplomatic relations in 1965.

Thursday's meeting was the first between the Japanese and South Korean foreign ministers since Tokyo tightened its controls on chip materials exports to South Korea in early July in effective retaliation over the wartime labor issue.

Although the United States has shown willingness to mediate between the two Asian allies, it appears difficult for Tokyo and Seoul to defuse the tensions between them, the sources said.

The atmosphere was frosty at the beginning of their meeting. Kang and Kono shook hands, but without smiling or exchanging words.

South Korea has been refusing to accept Japan's requests, made after the South Korean court rulings, that the two sides hold talks on the issue of wartime labor or start arbitration procedures on the matter under the 1965 pact.

At a cabinet meeting on Friday, the Japanese government is seen deciding to revise an ordinance for removing South Korea from the white list.

At the meeting with Kono, Kang also called on Japan to withdraw the stricter chip materials exports controls.

Meanwhile, Kono and Kang confirmed cooperation between Japan and South Korea, and among the two plus the United States in dealing with North Korea, after Pyongyang fired projectiles on Wednesday following its launch of short-range ballistic missiles on July 25.