Warning: Use of undefined constant full - assumed 'full' (this will throw an Error in a future version of PHP) in /home/manila-shimbun/www/wp-content/themes/Manila Shimbun/single.php on line 18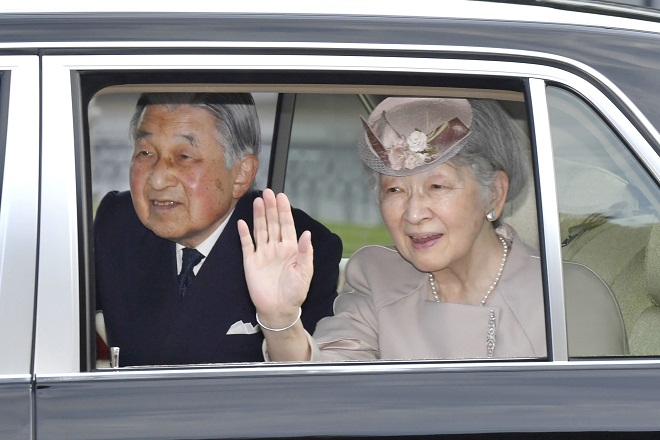 August 10, 2019

Tokyo- Japan's Empress Emerita Michiko has been diagnosed with breast cancer at a relatively early stage and will undergo surgery in September at the earliest, the Imperial Household Agency said Friday.
The agency said it believes that the cancer is unlikely to have spread to other areas.
According to the agency, the former Empress, 84, was found to have a mass on her left mammary gland when she was examined by echography scan as part of a periodic health checkup on July 12.
When she underwent magnetic resonance imaging at the University of Tokyo Hospital on July 15, she was diagnosed as possibly having malignant tumor. She then had tissue testing from a needle biopsy on Aug. 2 at the agency's hospital in the Imperial Palace and was diagnosed with the cancer.
The testing result was conveyed by a doctor to the Empress Emerita together with her husband, Emperor Emeritus Akihito, who abdicated the throne on April 30. The couple appeared to take the result calmly, according to the agency.
As the retired Empress has been having mammary gland checkups on a regular basis for more than 10 years, her cancer was detected at an early stage. She was found to have no abnormality when she underwent the previous checkup six months to one year ago.
Although she currently has no apparent symptoms, there are concerns that she may have suffered decreased strength, including rapid weight loss. She had the busy abdication schedule, and underwent two cataract surgeries in June.
The Empress Emerita is scheduled to visit the town of Karuizawa in Nagano Prefecture, central Japan, and Kusatsu in Gunma Prefecture, eastern Japan, in late August for her summer retreat as usual.
She is expected to have surgery after regaining her physical strength, according to the agency.