Warning: Use of undefined constant full - assumed 'full' (this will throw an Error in a future version of PHP) in /home/manila-shimbun/www/wp-content/themes/Manila Shimbun/single.php on line 18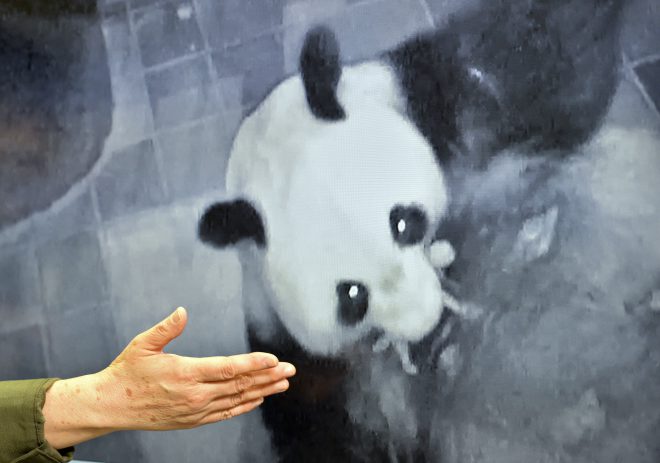 June 12, 2017
Ueno Zoological Gardens official Mikako Kaneko (2nd L, top) answers questions while zoo director Yutaka Fukuda (L)  
looks on during a press conference to announce the birth of a baby panda in Tokyo on June 12, 2017. A Japanese zoo celebrated the 
first birth of  a baby panda in five years Monday, with the tiny cub small enough to fit in the palm of a human hand.
Tokyo- Giant panda Shin Shin gave birth to a cub for the first time in about five years on Monday at Tokyo's Ueno Zoo.
The zoo in Taito Ward will carefully observe the 11-year-old female panda and her baby, both of whom are doing fine, it said.
An employee of a department store in Tokyo's Ueno shopping district distributes paper masks showing a baby panda  
to celebrate the birth of a baby panda at the nearby zoo on June 12, 2017. 
The baby, whose sex has yet to be identified, is estimated to weigh some 150 grams and cried aloud just after being born, according to the zoo.
Shin Shin last gave birth to a baby on July 5, 2012. The male cub, the first giant panda born at the zoo in 24 years, died from pneumonia after six days of life. AFP/ Kazuhiro Nogi/ Jiji Press